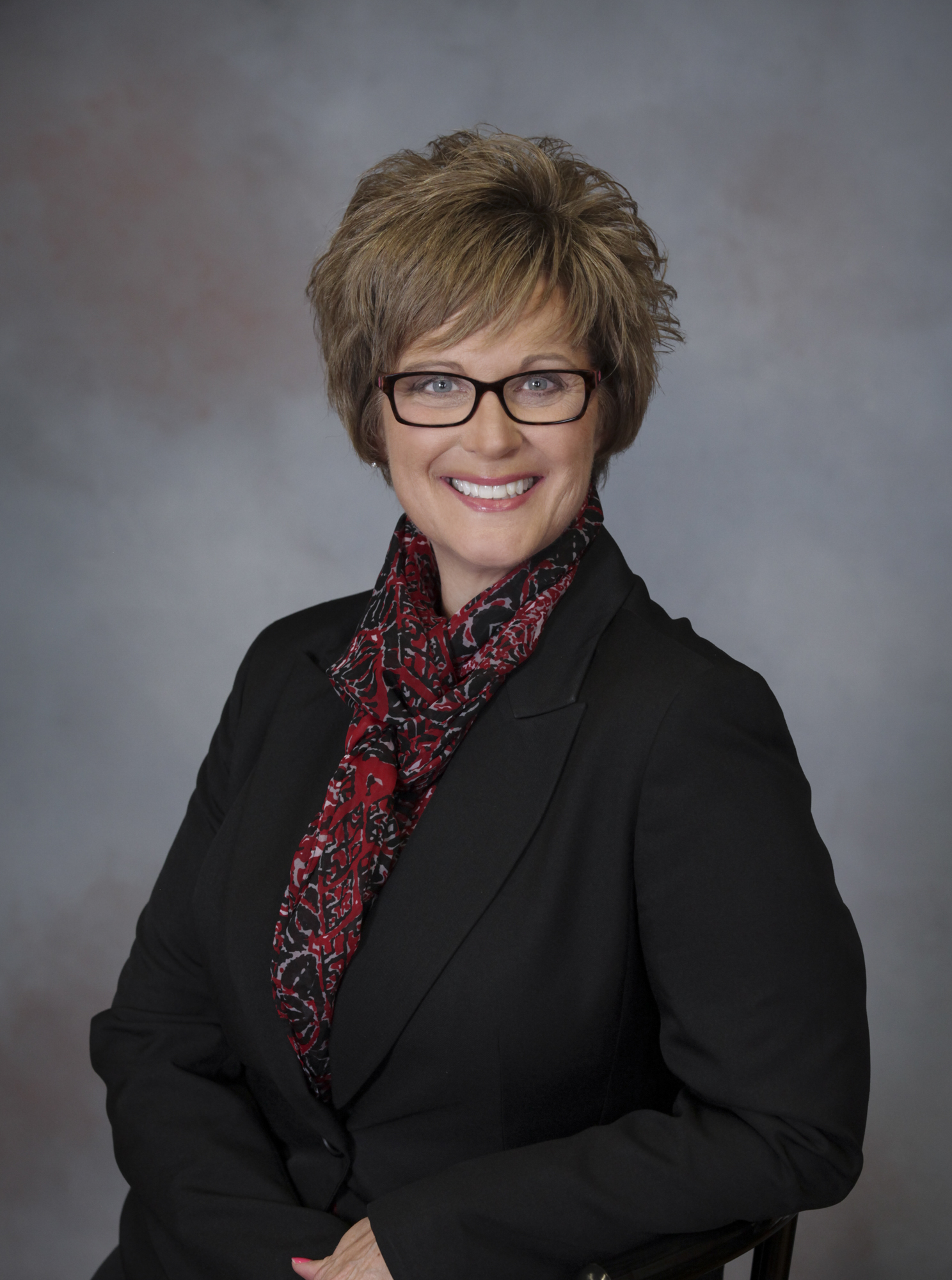 FOR DENTAL & MEDICAL PROFESSIONALS
Don't let your group miss out
on learning from Angie!
Contact Angie Today!
"Angie was one of the best presenters I have ever worked with.
She was passionate, confident, funny,
and knows her subject inside and out…"
~Howard Pitkow, Professional Photographer
"It never ceases to amaze me how Angie has this unique ability
to entertain, educate and inspire her audiences.
I walked away with renewed enthusiasm and excitement!…"
~Pam Hawkins, RDH
About Angie's Public Speaking Presentations
Angie's presentations empower and instruct attendees throughout the United States and abroad to switch up their thinking and take charge of their own destiny.  As a Dental Hygienist who has accomplished this herself, she brings excitement, passion and real world advice to each of her presentations.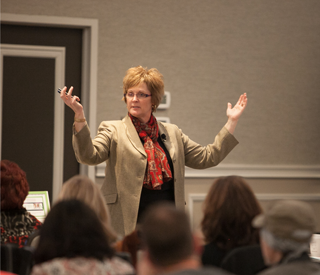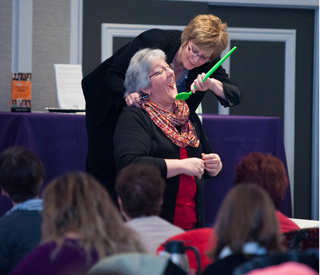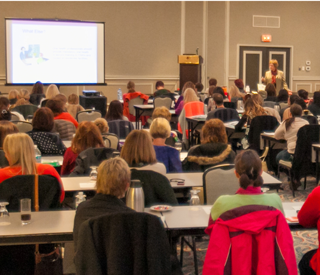 More About Angie
While Angie has educated and entertained dental professionals with her fast paced fun courses in 44 states and 6 countries, her career did not begin as a speaker. She jokes with her audiences that she should have known she was destined to be a public speaker when the only "A" she received during her first semester of college was in Public Speaking! Her career in the dental profession began serving our great country as a dental technician in the United States Navy. Once she completed her enlistment, she obtained her associates degree in dental hygiene from Madison College, Madison, WI and later earned her Bachelor of Science in Psychology from Upper Iowa University. Angie is also an accomplished writer who has had numerous articles published in a variety of publications and was the Editor in Chief of the Hygiene Tribune for 3 years. Her original research concerning elders and xylitol has been published in a peer reviewed medical journal and her book, Dying From Dirty Teeth is an amazon best seller in the category of Dental Hygiene. Angie was honored with receiving the Sunstar/RDH Magazine Award of Distinction in 2012 for her work with the geriatric population and xylitol. She is also a 7-time attendee of CareerFusion.
My Favorite Things…
Dental Hygiene Style
---
Angie has been called, "The Oprah of Dental Hygiene" while presenting this course! As Angie teaches how to make decisions on product choices, she mentions items that have made a positive impact on her life as a hygienist. Attendees receive samples of many of the things Angie speaks about. It is not unusual to hear hygienists squeal with delight and cheer during the presentation, much like the Oprah's audience members used to do during her "Favorite Things" show! Come feel Angie's passion for improving the lives of hygienists everywhere as she teaches how to make "HyDuctions" and shares the HyDuctions she has made throughout her career. (3 hours)
Dying From Dirty Teeth…
Oral Health of Dependent Adults:
A Problem and  Viable Solution
---
Angie is an expert on this topic and this is her signature course.  Angie takes attendees on a journey as she shares her experiences with this population and teaches about what she is doing personally to save elders from "Dying From Dirthy Teeth".  She addresses oral care issues facing depnedent adults, with a focus on nursing home residents and their primary care givers, namely nursing assistants and nurses.  This information will get attendees energized about this population and offer opportunities to help this population.  Come feel the passion and excitement (3 Hours)
"
Angie
Stone captures her audiences instantly with her authenticity and inspiring message.  I would not hesitate to recommend
Angie
to anyone looking for an energizing and passionate speaker."
Michelle Prince
Angie Stone presented at the Iowa Dental Hygienists' Association Student/Faculty Conference in October, 2014. Not only was her presentation informative and timely, she completely engaged the students. We are having her back in 2015!
But why take my word for it…the following are quotes taken from the student evaluation forms:
"Awesome, very educational and will take this information with me in the future!"
"My new motto: What would Angie Stone do?"
"You are a role model to KCC!!!"
"Angie is amazing!"
"Another great presentation by Angie!"
Angie has made the jobs of the conference committee easy… due to the numerous student requests to have her
back, finding our speaker for next year is a no brainer!!
Pat Alden, RDH, BS
The Danville District Dental Society recently hosted a CE seminar with 3 speakers and about 250 attendees.  Her presentation and information is best described as "Mind Opening".   Her presentation style was very informative, lively, and memorable.  She did a marvelous job of keeping it interesting and fun for the hundreds that attended.  The chatter at the end of the seminar was very, very positive, and the attendees gave her very high marks on their evaluations.
I highly recommend Angie as an effective instructor and educator.
Dr Mike Fuesting
I heard Angie speak at the Wisconsin Dental Hygienists Annual Session. I had heard Angie before and was familiar with the subject of this lecture, but decided to attend anyway. It never ceases to amaze me how Angie has this unique ability to entertain, educate and inspire her audiences. I walked away with renewed enthusiasm and excitement! When Angie speaks, you find yourself listening. She was born to be a speaker! Pam Hawkins, RDH
Angie has presented to the Blackhawk Technical College Dental Assistant program students for the past two years. She stands out among guest speakers with her engaging style, humor, and passion. She possesses a depth and breadth of knowledge that leaves you eager to share this newly learned information with every health care worker and patient! Cynthia L. Ruiz, CDA, RDH, M.Ed
I've had the opportunity to work with Angie Stone at a recent event. I have done a lot of these types of events, however this was my first dental/medical event. Even as a non dental/medical person the seminar was interesting to me, I even took a few notes. Angie, was one of the best presenters I have ever worked with. She was passionate, confident, funny, and knows her subject inside and out. Howard Pitkow
Dying from Dirty Teeth, by Angie Stone
Angie's passion for elders began 13 years ago when her mother in law was placed in a nursing home.   Since then she has been working with nursing home facilities and oral care specialists to improve the oral health of this population.  Dying From Dirty Teeth is a compilation of all the things she has learned while traveling this path.
Purchase Dying from Dirty Teeth… $15.00 + Shipping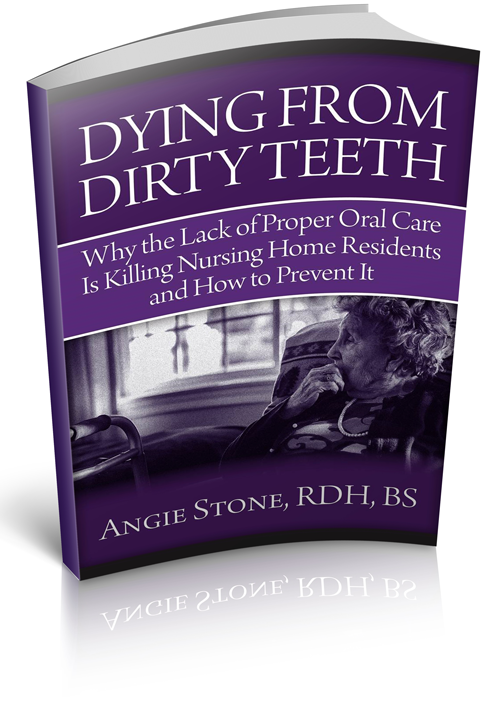 Praise for Dying from Dirty Teeth
"Hundreds of thousands of our loved ones are living with, and sometimes dying from, painful and expensive conditions that could be ameliorated or avoided by adopting the sound win-win solutions proposed in this book by Angie Stone. Dying From Dirty Teeth is concise, accessible, and on the mark." John J. Dubats, DDS
"Angie conveys a compelling explanation of why poor oral hygiene is a long-term care facility's most expensive and life impacting problem. It is silent and usually unrecognized. Angie offers solutions. If this easy to read message got to every nursing home resident's family member and every decision-maker in Medicare and Medicaid, all nursing homes in the country would have a dental hygienist on staff. End-of-life care is financially crippling our country. The impact of the simple action steps she suggests could dramatically reduce the costs of hospitalizations related to diabetes, heart attacks, strokes, pneumonia, and others." Charles C. Whitney, MD
"People are absolutely dying too soon from dirty teeth and Angie Stone's book uncovers this ticking time bomb.  Hear her warning and heed her call because this information will impact your aged loved ones right now and all of us sooner or later!" Dr. Chris Kammer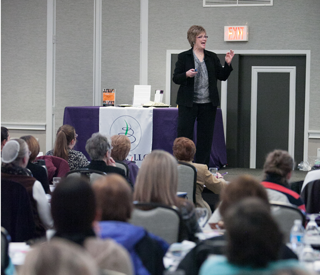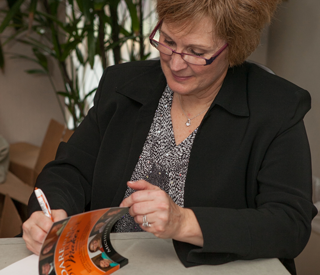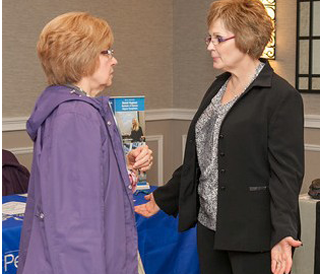 Contact Us Today to Book Your Dates!
Phone: 608-884-0038